We planted tomatoes, lettuce and beans out the garden yesterday.  We grew them in the class first and then planted them outside when they were strong enough and the weather got better.
Room 4 have been working hard this term. They have been learning the story of 8 and wrote it on their whiteboards.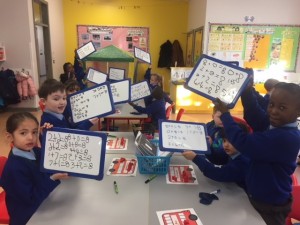 We have also been learning about looking after our teeth. We had a visit from the dental nurse, Aoife, and she gave us a certificate for doing great at brushing our teeth at home. We also did some Art on teeth this week.
On 3rd October the Mobile Library came to visit.
On 17th September we went to Tallaght Civic Theatre.
First we saw a mime show on imaginary play. Next we made puppets and played in the theatre. Last we took off our shoes and socks and played in the muck with dolls and houses. We used our imaginations.