Ms. Mernagh's Junior Infants are in Room 2.
We have been very busy working hard and having lots of fun in Room 2. Here are some of the things we have been getting up to recently.
We were learning about teamwork and how important it is that we all work together as a team in our class. We used some wool and passed it around to make a big web. We all had to make sure we were working together to keep our web steady. If anybody let go of their piece of wool the web would break and fall apart. We all have to work together to make our class a happy place.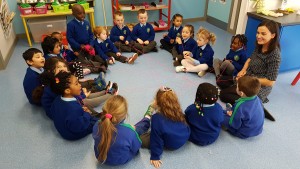 We had a visit from the librarian. She brought some lovely books to read to us. She also brought some puppets and used them to tell the story of Little Red Riding Hood. She used different voices for the different characters and we really enjoyed it.
We've also been doing dance with Aoife every Tuesday. It is so much fun! We are learning lots of new dances and we get better and better every week.