We have been busy bees in room 2 since we have returned from our winter holidays. All the children have been doing amazing work learning our new sounds and practising them every day. We have been playing games like 'I spy' and going on hunts around the room and in our houses for things with each sound. We are even starting to put the sounds together to read words!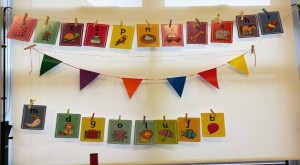 In our maths we have been learning lots about number, shape and patterns. We have been playing maths games at our stations and creating patterns with links and beads. Take a look!
The boys and girls have been learning all about winter, signs of winter and animals which live in cold climates such as …. Penguins! We even made our very own penguins, they were so much fun to make and are so colourful!