Aboriginal Art from 3rd Class using the pointillism technique!
Third class are working in collaboration with DCU on a project called Primary Science in the Real World. Over the last number of weeks, Third class have been investigating, observing and analysing Everyday Recyclable Objects. They decided to look at the lunches they receive from Glanmore Foods and they noticed that they use 'single use' plastics to wrap sandwiches and provide us with plastic cutlery all of which cannot be recycled. Third class decided to send Glanmore Foods an email to address their concerns. They informed him of the Government's ban on 'single use' plastics from all public bodies including schools. This is to be implemented with immediate effect and all public bodies and schools have until March 2019 to make the necessary changes.  Eric was so impressed with our email and our enthusiasm he dropped by to address our concerns in person. Thank You Eric!! 
We have been super busy in 3rd Class lately. In history we learned about the Vikings and designed posters in groups as well as making some Viking ships from clay during art. It was lots of fun!
In SPHE we were learning about Confidence using the You Can Do It Programme. We learned that it is important to try and it doesn't matter if you're not perfect- everyone has their own talents that make them so special!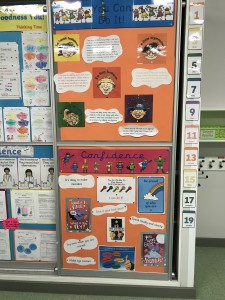 In English we wrote acrostic poems based on the theme of Winter. We also made a winter scene with some arctic foxes and penguins.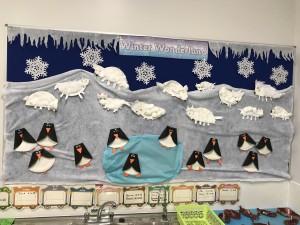 In Gaeilge, we learned about food (Bia) and winter and we made these lovely snowmen and described them in Irish.
We really enjoyed our winter performance with Mr McCarthy's 2nd Class. Our theme was friendship and we made these beautiful rainbow clouds to describe what makes us such good friends!