Ms Kelleher teaches 4th Class in Room 12.
We have been busy with art in Fourth Class lately. We designed our own stained glass patterns and used oil to allow the sunlight to shine through!
We also painted these beautiful cherry blossom trees.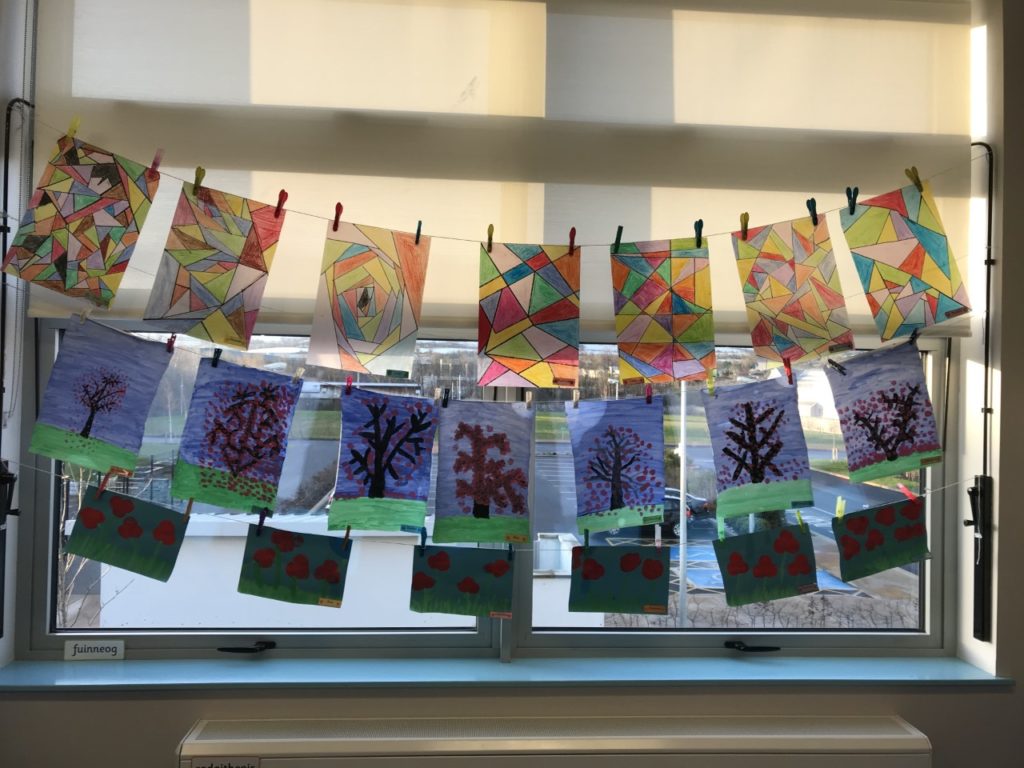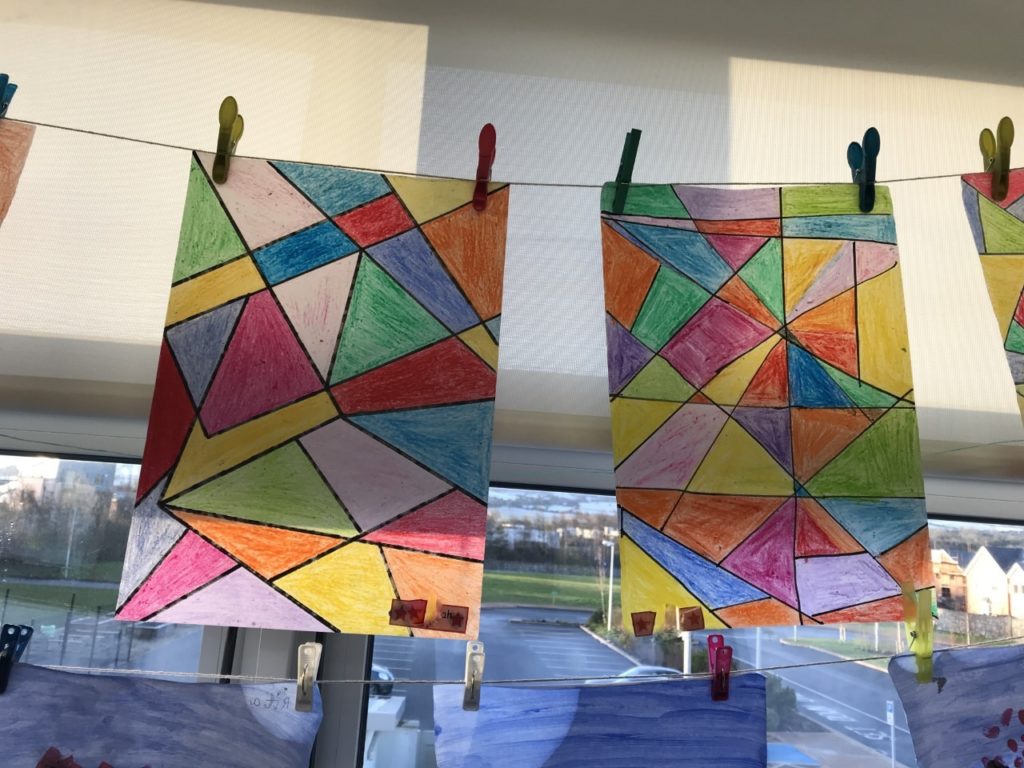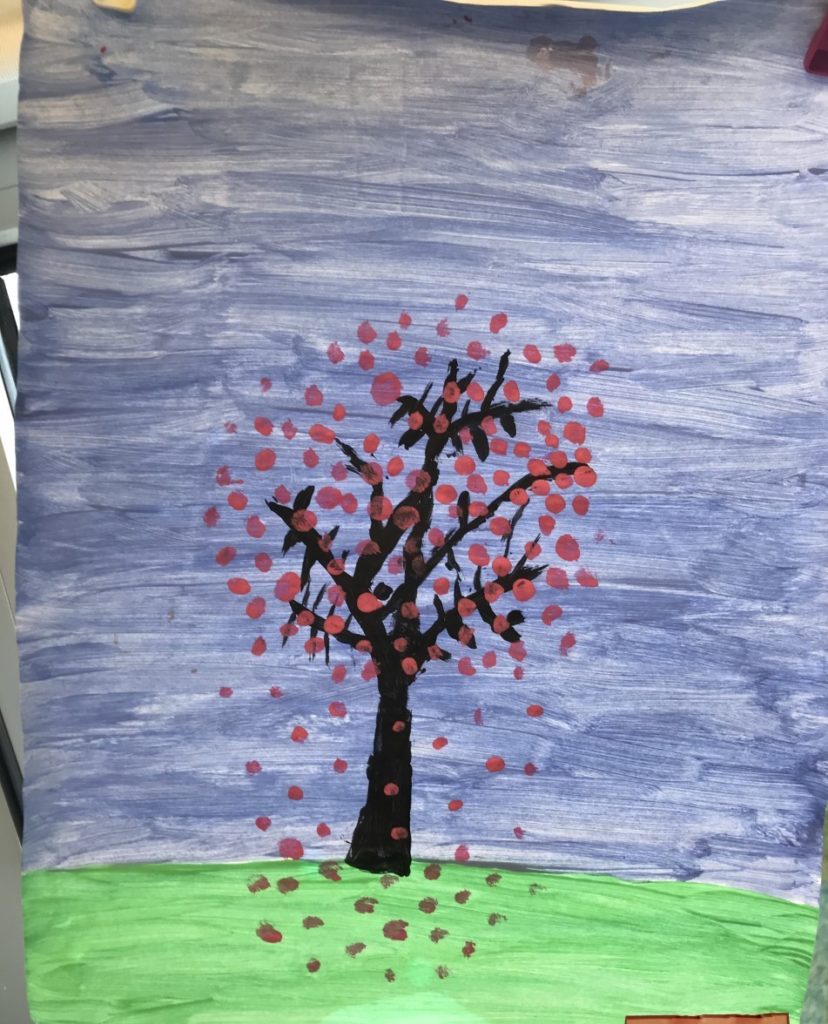 We learned all about Poland for Intercultural Day. We looked at traditional Polish meals and designed menus, we made a map and added famous places to visit, we learned about Polish myths and legends and traditional dress in Poland. We also looked at tourist attractions for children to visit and designed fantastic brochures! 
Wow! What a busy few months we've had here in Fourth Class! Ms Kelleher is so happy with the progress we have been making. During November, Ms McDonald joined us for three weeks- she taught us lots of exciting things and we really enjoyed having her in our classroom. In Gaeilge we have been learning about food and winter time. We played lots of exciting games to practice our Irish each day.
In History we learned about the Stone Age and we are now studying Medieval Ireland! We are super interested to hear about what Ireland was like during the time of the Black Death. In geography we have been working with Rowan from DCU to learn about climate change using picture books. We especially loved the book The Lorax and The Giving Tree. We will miss Rowan next term.
We have been super busy practicing for our Winter Show. We will be singing two songs and doing a short play called "The Antarctic Mystery" which was written by Andy Pavey and is from the Drama Notebook. We can't wait to perform it for the school!
Here are some pictures of our recent work!
Welcome back to all our amazing students in Fourth Class! Five new children joined our class- Sarah, Adam, Dían, Demarco and Natalia, we are delighted to have them in our class. We were super sad to say goodbye to Shiva and Julie who both moved house over the summer. Ms Herron-Rice is our teacher again this year and she has been keeping us very busy in September- here are some of the things we've been up to!
In Geography we have been learning all about Space; we really enjoyed learning about the planets and the sun. In art, we made stained glass Earths, designed a space scene using pastels and made papier mache planets- they took a lot of work but we are proud of how they turned out!
In SPHE, we were learning about ourselves and our identities. We used mirrors to help us draw pictures of what we look like now and then we imagined what our lives would be like in ten years time and illustrated our ideas. We think they look great!
In Gaeilge, we learned about Mé Féin and we had great fun doing role plays during Irish lessons.
We learned about the skeleton and the lungs in science. We made 3D lungs in pairs and learned a funny skeleton dance. Ms Herron Rice showed us an old tv add from when she was young about how milk helps your bones- we thought it was very funny and so old fashioned!!
Finally! We celebrated Friendship Week during the last week of September. We organised games during yard time for the other classes and made sure everybody played fairly. We had a secret friend for the week and tried to do nice things for them. We learned some songs about friendship and enjoyed singing them each day. Finally, we looked at the qualities that make a good friend and made this lovely display.
We can't wait to see what we get up to during October!